SORRENTI'S FAMILY PORTRAIT: TEN MINUTES TO READ ABOUT A FASHION-PHOTOGRAPHY DYNASTY
Tuesday 19th November 2019
Entering matriarch Francesca Sorrenti's Brooklyn apartment, through the kind of labyrinthine corridors that always seem to snake through NYC's monolithic blocks, I'm struck by the storied and busy interior. It would be fair to say the family values of each of the Sorrentis are based on creativity.
It's not quite Royal Tenenbaums wacky, but certainly tapestried with photographs and paintings from the prodigious hands of her family – framed unfinished sketches, a 1972 painting of herself by her first husband, a self-portrait by her son Davide in bold strokes hand-painted on a broken mirror. She swiftly ensures the espressos are made as a ginger cat arabesques over the kitchen counter like Macavity, then circles us as we sink into the living room. Francesca is cat sitting Mario's familiar: "Django loves to play, but we play a lot, so he's spoilt now." (Incidentally, Django also modeled in the SS18 Jil Sander campaign.)
"My house was open to everybody," she says, like the very Italian mother (to photographers Mario, Vanina and Davide) and grandmother (to Gray, Arsun and Lennon) that she is. She's immediately inclusive. I have been in New York less than six hours and she's invited me to her grandson's gig at Rockwood Music Hall at 11 o'clock. She's a proud grandmother, playing me Arsun's husky acoustic of Strangers in the Night –serendipitously the song that her first husband, his grandfather, wooed her within 1970s Napoli – and alerting me to the gigantic Saint Laurent poster by Gray on Broadway ("She shot that – 18 years old!") "To this day, people will show up at my front door, ring the bell and come in." Francesca's present is also peopled with ghosts of the past, many of whom collectively have kept her late son Davide's world alive since he tragically passed in February 1997. Other than myself, today's visitor at the apartment is photo editor Jade Berreau, who lets herself in and is helping Francesca with the curation of a forthcoming exhibition of Davide's prodigious archive. Jade was an old friend and was also captured by his distinct fashion lens. They confer over a large pinboard. "Do you like this?" "Not really." "OK." It's clear-cut, but the pair have a familial rapport.
Davide's death was a confluence of many elements merging together, his ongoing blood disease thalassemia, also known as Cooley's anaemia (that had required time-sensitive hospitalisation through his life), and kidney failure. "Davide was born with a blood disorder, he was born handicapped and there's a side of me that knows he did not die of a heroin overdose. He died because he used drugs and his body couldn't take it." There was some drug use in his last year – "Nan Goldin called me to say she thought he'd tried heroin" – but it was not the driving force of his guerrilla creativity. "He maybe did it five times and there wasn't enough to kill a fly in him when he died. He was supposed to go every two weeks for transfusions. It would have been OK if we were home, but we were traveling and going back and forth, we went to LA, then we went to Mexico. He even bungeed."
Born in Naples in 1976, Davide's creative path was written in the dynastical stars. The Sorrentis moved to New York in the early 1980s, partly because of the medical care Davide needed. He initially hated the big city, but it would become central to his art. Mario documented the painful drug infusion he had to go through every night in a series called The Machine (the name the family gave the infusion pump), which was later turned into a book. New York was also the city that launched Francesca's wildly successful career and that of her precociously creative children. Francesca's own parents worked in fashion, and her mother's elegant style was the talk of the town in Naples. "She dressed very extravagantly, but it was still a very small town. But I'm the fashionista of the family," quips the youthful 69-year-old before me. However, she confesses her own career seemed redundant on losing her younger son. "I gave up photography, I couldn't… Photography was such a deep love and passion for me, fashion photography. It's like I got hit by a Mack truck and broke every bone in my body."
We meet as the Davide Sorrenti documentary – See Know Evil – is released, in tandem with an Instagram account (@see_know_evil), which includes many unseen works. Directed by Charlie Curran, the film has taken seven years to make. Davide's unflappable youth and charisma pierce the screen. Francesca praises Charlie's "naivety, annoyance and persistence" in making it happen, as she'd previously refused to allow people to be a part of her son's legacy (finally giving access to a young film student from Georgia was, as she puts it, "nuts"). The voices included tell the real story and were strictly edited by Francesca. The process was of course tough, and she wasn't sure she could go there, ergo the seven-year incubation. "Charlie would call and say, 'I'm sorry for bothering you.'" He'd give her a hard copy of the interviews, "which were extremely touching. But then I'd close myself off again." She calls these her "don't give a shit" modes ("and I can thank Davide for this"), highlighting the anxiousness imbued in sharing the memories, and the grief process in general. "It's not like you have time to grieve before they pass." It was Steve, her husband, who eventually convinced her. The family Sorrenti gathered in her Brooklyn apartment and watched the first cut together. "It was very fashion orientated. I think he got caught up in the Kate Moss thing." They wanted the truth, and the next version sang truer, with exclusive family finds. Vanina even found 70 rolls of undeveloped Super 8 six years into the process.
"This isn't a fashion image," Francesca says, pointing to a picture of Davide's girlfriend of the time, the model Jaime King. "She's just sitting by this popcorn machine and he took a picture of her. That's super-unique." There's a cinematic view of 3rd Avenue on the board – "Oh, this one here. It's so beautiful. It's 1995, and we had this huge snowstorm and he ran out and said, 'Mom, I'm gonna take a couple of pictures of the snowstorm.'" He always carried a camera (his first Leica was a gift from Mario). "He was always touching my stuff…touching Mario's stuff," Francesca says. "Mario would call me and freak out – 'He took my film' – and I said, 'You know what, you're supposed to say he touched my clothes, he took my toys, not he took my camera.'" Davide wasn't a flâneur, he was the enthused ringleader of his crew. "Every day was a photo shoot, he documented everything," says Francesca.
He swiftly captured a moment, yes, but also a time. A pre-digitalised history of New York, his darkly glamorous photos would appear in Interview, Detour, Ray Gun. His images emerged at a moment in the 1990s when fashion imagery was changing and challenging, alongside art, music and culture as a whole. If the fin de millennium appeared apocalyptic, it had youth on its side, and provided young commentators like Davide with opportunities to knock on doors with their portfolios. Part of what makes his story so fascinating is, of course, that he was capable of achieving so much in his 20 years, never sacrificing a moment, despite his condition. Very few people knew how sick he was. Later, Francesca had to tell his agent Mutale Kanyanta to slow down booking him.
Smashing Pumpkins, Nirvana and the sounds of Seattle may have permeated the airwaves, but Davide and his pals were ambitious and savvy. Little kids doing big things – "blowing up, making moves, getting paid" as Davide's crew SKE (pronounced "ski", standing for Some Kids Envy) and fellow club kids were heralded in New York Magazine the year after he died. "It used to be Justin, Shawn, Richie and Davide. The four of them were like peas in a pod," says Francesca, whose East Village home became the unofficial SKE headquarters. "I'd say to Davide, 'Oh, are they here again?' And he'd just say, 'Mom, I have to take care of my boys.' They had this brotherhood. City kids do that – they put their energy into each other."
She enlisted Davide's friends Matt and Shawn to help with the production of See Know Evil, as they both had experience of directing and screenwriting. I ask her to take me back to the late 1990s, when Davide's mercurial charm and potent talent were on the ascent. She is stoic and frank. "It was a weird time because it was very gangsta. Everybody wanted to be a gangsta, every white kid wanted to be black, but they had no concept. They'd call each other the N word, a bunch of white kids were calling each other the N word. But they were very creative." She mentions the influx of British talent in New York and the accompanying prolificacy of drugs. "That whole era was very unusual. It was the '90s. But you know, nobody did it maliciously. These kids who came over, they got hooked. You're gonna blame them?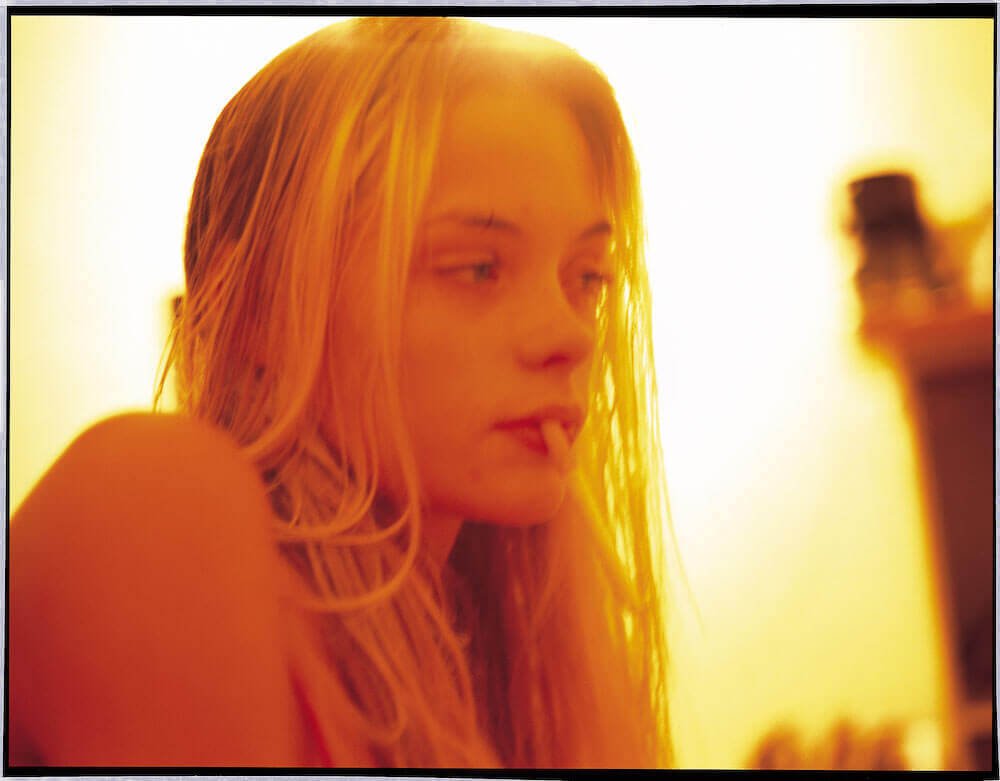 "I think he was fearless and naughty because he had to prove himself because of his illness," she says. He lived for the very raw, imperfect moments captured in his photography, and also his graffiti. Francesca and Steve once busted him: "I see him [and some friends] spray painting the side of a building. His friend saw me first and he goes, 'Davide, Davide, it's your mom.' And he turns around and they got the spray cans and they're trying to hide them. I said, 'Get in the car. By yourself.' "It's impossible not to smile, listening to some of the stories– Francesca is a motherly raconteur. She notes that he never graffitied a historical building or a landmark building. "He hated that, he couldn't believe people would do that." She notes his last remaining tag remained on West 18th Street up until two years ago.
"I remember having to tell his friends that he was sick because he didn't want to. I'd say, 'You're not sleeping over if you don't bring your machine.' " It was hard for people to comprehend, as the youthful bon vivant persona prevailed. "Before he got transfused, he looked like a drug addict, even when he wasn't doing drugs. He would become sort of greyish and his cheeks would sort of cave in." Away from the media hysteria – both then (culminating with President Clinton's address in 1997: "the glorification of heroin is not creative, it is destructive") and now – it's refreshing to hear Francesca on the convenient blanket term "heroin chic" and inaccurate labelling of Davide's visually arresting portfolio. "His work was talking about his own suffering. A lot of people said, 'Oh, they look like druggy pictures.' We had a huge conversation about this, me and him. He goes, 'Mom, it's my dream world. It's my melancholy dream world.' And perhaps it represented a state of purgatory. Oscillating between extreme pain and carpe diem craziness."
Naivety and creativity were part of the process, and she draws my attention to the infamous image of Jaime that the media went into a tailspin over, itself a staged fantasy of disillusionment. "In the room there's Davide's friend Anthony, Vanina, and these posters came down afterwards, because they were blocking all the windows. So, they put up all those posters, Vanina ripped the tights. I walk in and go, 'What's going on?' And he goes, 'We're doing this thing to show destruction in youth.' And then it became fashion, this is what he was about."
When first love is played out publicly, it can't be easy. "They were really very beautiful together. They shared so much writing, photography, their dreams. They were made for each other, but unfortunately she was an addict. She got pulled in without even knowing at 14," Francesca absolves, but acknowledges Jamie knew the reality of Davide's condition. "She would see sometimes that he couldn't get out of bed, that's how much pain he was in." Francesca was aware he smoked weed as it also helped with his pain, and as a mother she never said, "Say no to drugs." "It's such a stupid thing – 'Just say no.' Awareness was my big thing, it was my motto." She used her loss as a powerful, moving platform, but before, she had been known to step offset to call an agent to come to LA to collect a young model ("Her mom took her straight to rehab and she has a lovely life, two children now, she lives in England"). She recalls going to a major Paris fashion show, post Davide's passing, and seeing "three or four of the girls from the runway nodding out against a wall. I started this underground railroad where I was helping young girls, trying to get them into rehab."
Davide's fun, fast times ollie through the documentary, but as much as he was prolific, he was private. So Francesca reveals the more unexpected parts of Davide, defined by the era he captured: "He played golf, but then at the same time he was a graffiti writer, a homeboy." The Age of Innocence was one of his favourite movies of the era, and he loved the Turner Classics Movies, and had an unexpected penchant for opera while showering. One day she thought he had taken the tape recorder into the bathroom. "I said, 'Davide, what the hell? You're bringing a tape– ' and he goes, 'I'm singing, Mom.' Me and Steve were just floored by this really deep, beautiful, operatic voice." It's easy to picture when you hear his gravelly candour in the documentary via an Avedon casting tape. She points out his selfie in a Venice hotel room wearing a red leather coat from a shoot she was doing for German Vogue – he and Vanina tagged along.
As a family, fashion is instinctive, but even Francesca was shocked when, as a small boy, she took him to a fashion show and he asked, "Who's that beautiful girl?" "And I'm looking for this girl and it's Franca [Sozzani]. He just thought she was beautiful." And he just got up and went over to her and charmed her.
His magnetism had an impact on those in his orbit. "Over 500 people showed up at his funeral. People from all over the deli, the pizzeria, the school, the teachers. Donna Karan, a bunch of models, photographers. It wasn't, you know, like you expect when you go to a fashion funeral and everybody's chitchatting. Everybody was crying." She had a call a matter of weeks after the funeral about an upcoming court date. "He had been arrested, I had no clue, in the Hamptons. They had gone into a supermarket, him and a bunch of friends, they took food to do a barbecue. He had missed his original court date. I'm like, 'Court date?' He got caught with a steak… I said, 'I hate to inform you that he's passed away.' [The lady at the courthouse] just cried and cried and goes, 'Oh that lovely little boy, he was so cute. He sat there laughing, he was so endearing.'"
I think about Francesca's broken mirror in her living room. She had discarded it and Davide went off and reconfigured it as something so unique. And I think about the broken heart she's left behind. "But I have been blessed with the fact that my son's last words to me were, 'Mum, I love you.' And I said, 'I love you too.'
by Emma Elwick-Bates
10+ UK Issue 2, EVERYONE, VOCAL, TOGETHER is available to order HERE.