MARC JACOBS TALKS US THROUGH THE TIMELINE OF HIS PERSONAL STYLE
Friday 23rd August 2019
For Issue 2 of 10+, Andrew Bevan interviewed the American fashion king Marc Jacobs about 30+ years of his reach career. As part of the interview, Marc Jacobs talked us through ten of his most memorable style moments – from naked Bang campaign shot by Juergen Teller to all those fabulous Prada skirts. "I probably have some old-school ideas about what fashion should be," he says to Andrew Bevan, flanked by racks of clothes in the centre of his loft-like Soho showroom. "But then I also think fashion should be whatever somebody wants it to be."
MARC JACOBS AW85, NEW YORK
"This was my first show in a public place, at the Century Cafe. Nick Eagan and I silkscreened these T-shirts inspired by the Malcolm McLaren saying, 'Never trust a hippy.' I'm not sure how we landed on the smiley face, and it wasn't related to rave. I don't think I had any knowledge of rave culture or knew it even existed. I remember those Puma sneakers and how I thought I was so cool by crossing the Velcro straps."
NEW YORK, APRIL 1990
"This is when I was at Perry Ellis and I wanted to be chicer. I bought a red Hermès mackintosh. I thought, 'OK, I'm here at Perry Ellis. I've got long hair. Let me wear khakis, as Perry did with his long hair, and give this white-boy look.' Which wasn't me!"
MARC JACOBS CHRISTMAS PARTY, DECEMBER 2005
"I wanted to be a pig because it was a country-and-western-themed holiday party. 'Some pig', of course, was from Babe, and I used to always tease people that all I wanted was a pat on the back from Mr Arnault saying, 'That'll do,' like in the movie."
MARC JACOBS CHRISTMAS PARTY, DECEMBER 2007
"So this is when the Marc Jacobs company was doing these big costume parties for Christmas for all of our employees and our close friends and extended family, and my costumes started becoming more and more theatrical. After years of excruciatingly painful costumes that made me sweat, I got clever. All anybody wanted at these parties was their picture with me. So, I thought, 'OK, I'm going to fool you all. I'm going to do this camel toe.' It had a chair and a fan inside. Basically, I was in a fur tent."
NEW YORK, NOVEMBER 2009
"I was convinced that I would never wear anything if it wasn't a skirt. This was my Birkin bag phase, where I would buy one almost every two months, although now I've sold half of them. I was wearing these boots and all the kilts from Comme des Garçons, so I felt very cute back then, too. I dyed my hair black and I actually groomed my facial hair for the first time."
CAMPAIGN FOR BANG BY MARC JACOBS, 2010 (photograph by Juergen Teller)
"I was feeling very cute at that moment. What's the thing everyone writes on Instagram? 'Was feeling cute, might delete later.' This was shot by Juergen Teller. There was a little bit of a wink to Saint Laurent being nude in his fragrance campaign. I wasn't trying to say that was what we were imitating, but I like the idea that Bang was the name I thought of while I was at the gym working with my trainer. There's humour in everything I do. This went on to become a spoof T-shirt that said 'Gang bang, Marc Jacobs'."
LOUIS VUITTON–MARC JACOBS EXHIBITION, PARIS FASHION WEEK AW12
"This is a pink men's dress from Comme des Garçons SS12. I'm just feeling myself in my genderless look. After my kilt thing, I was like, 'I've got to be a little more fluid with this dialogue here.' I wore a version of this to a Broadway show once. I had one of those fur boas on and I think a sequin jacket. A person behind me said, 'You know, this isn't La Cage aux Folles you're seeing tonight?' I was like, 'Yes'.
MET GALA, NEW YORK, MAY 2012
"I had a tuxedo ready, and then I thought, 'This is for Miuccia Prada and Elsa Schiaparelli, two out-of-the-ordinary, incredible, unconventional thinkers. Wearing something so conventional just doesn't seem to honour them.' So, I put that lace dress on for the first time, with white boxers to keep it masculine."
SAINT-BARTHÉLEMY, DECEMBER 2013
"I coveted this Prada coat when I saw it on the runway and Miuccia very generously made it for me and gave it to me for Christmas. In this picture, we had just arrived in Saint Barth, and it was 96-degree weather, but I was so keen to wear my new coat. I knew there would be paparazzi when I got off the plane."
NYRP HULAWEEN, NEW YORK, OCTOBER 2016
"Halloween is one of my favourite holidays. This was the first Halloween that Charlie and I got dressed up for. I said, 'Why don't we be male and female bodybuilders?' We went for multiple fittings, had these bodysuits made and padded, and the rest is Halloween history."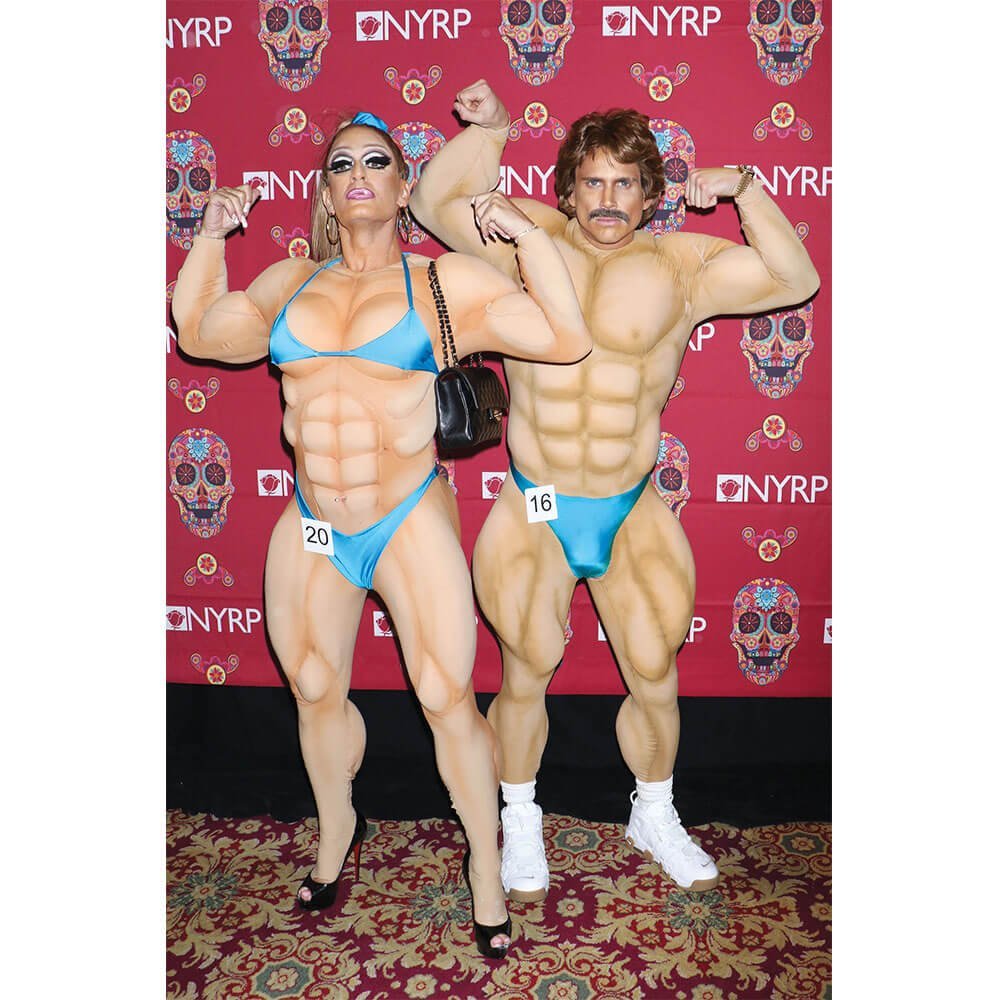 PARIS FASHION WEEK AW18
"This was at one of the Miu Miu shows in Paris about a year ago. I'm in Prada carrying my Chanel bag. I regularly attended the Miu Miu shows when I lived in Paris."
by Andrew Bevan
10+ ISSUE TWO – EVERYONE, VOCAL, TOGETHER is available to order HERE.